ForecastAdvisor Weather Forecast Accuracy Blog
A Blog Documenting the Intersection of Computers, Weather Forecasts, and Curiosity


December 22, 2005
Best Places To Live If...
In August of this year, we published a fun paper called "Best Places to Live or Work If You Need to Know What the Weather Will Be Like Tomorrow." It was a serious look at how weather forecast accuracy differs depending on where you live. It's still available (for free, I might add) right here.
The paper ranked nearly 700 U.S. cities on two criteria:
How accurate temperature weather forecasts for the city are
How much temperatures vary day-to-day
The thought was, if you needed to know what tomorrow's weather would bring, you'd want to live somewhere where tomorrow's temperatures are much like today's, and where the weather forecasts are the most accurate.
Honolulu, Hawaii
came in first, while
Williston, North Dakota
came in last.
Not included in the original paper is the following map showing graphically the results of the paper. The more blue an area is, the less predictable weather it has. The more red, the more predictable. The dots are the cities in the report.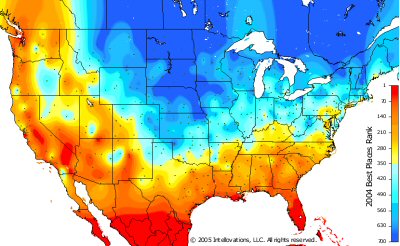 (Click here for a larger version)
The map graphically shows that the southeast and far west are the most predictable, mainly due to the moderating effect of large bodies of water nearby. The upper plains are the least predictable, as they are often the battleground between cold air from the north and warm air from the gulf, which makes wide temperature swings common and keeps weather forecasters up at night. Dr. John W. Enz, North Dakota's state climatologist, noted that temperature variation is perhaps the most important feature of North Dakota's climate.
There are a few oddities. For example, notice the dot of cyan in a sea of red in southern California near the Mexican border. That's Campo, California (overall rank 416). The city ranks 126th and 196th for high and low temperature persistence (in the top third), but nearly at the bottom for high and low temperature forecasting at 682nd and 681st. It looks like both the National Weather Service and Accuweather are having a hard time forecasting for the city. However, the other forecasters including The Weather Channel, Intellicast, and CustomWeather, seem to be forecasting fine. Compare this to nearby San Diego, California, where Accuweather and the National Weather Service seem to be doing fine. San Diego is 13th and 4th for high and low temperature persistence, and 42nd and 40th for high and low temperature forecast accuracy.

Archives
December 2005 January 2006 March 2006 June 2006 July 2006 August 2006 September 2006 October 2006 November 2006 December 2006 January 2007 February 2007 March 2009 September 2009 March 2010 April 2010 February 2011 April 2011 June 2011 February 2012 September 2012 June 2013 October 2013 February 2014 June 2016 Current Posts