ForecastAdvisor Weather Forecast Accuracy Blog
A Blog Documenting the Intersection of Computers, Weather Forecasts, and Curiosity


Monday, July 17, 2006
See Previous Forecasts
We recently introduced a new feature to ForecastAdvisor. If you click on any forecast, it will bring up a set of previous forecasts for that day. For example, go to a forecast page, say Fort Collins, Colorado (which was recently Number One on Money Magazine's 2006 Best Places To Live). The day I'm writing this, you see this forecast:

The current forecast for "today" is for a chance of rain showers with a low of 59° and high of 88° Fahrenheit. If you click on that forecast, the current forecast will dim and you will be shown the current and past weather forecasts for "today". As I write this, it looks like: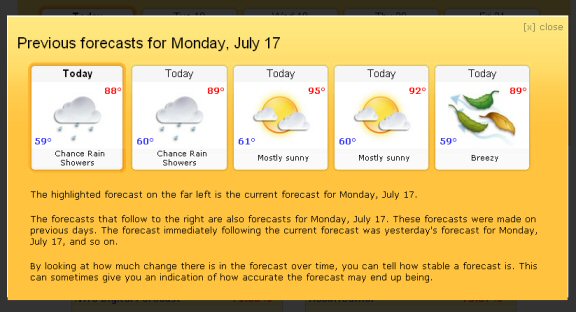 The forecast on the left of this weather forecast trend page is the current forecast for today. Today's forecast for today, you might say. It matches the forecast on the 5-day forecast page. The following forecasts are also forecasts for today. These forecasts for today were made on previous days.
For example, look at the forecast from two days ago. It is the third forecast (the forecast created today is first, the forecast made one day ago is second, so the forecast made two days ago is third). On that day (July 15, 2006) the forecast for today was for Mostly Sunny skies. And the temperature forecast was for 95°, now it's for 88°. That's good. It looks like the high today is going to be 89° in Fort Collins, and there have been showers in the area today.
So why was this feature added? Well, for one, curiosity. Being a weather geek I knew that weather forecasts changed frequently, but I didn't know by how much. I also didn't know if knowing how stable or unstable a forecast is would help someone understand how much the forecast should be trusted.
It's quite interesting to see how a forecast changes over time, and I do believe you can learn from it. At any rate, it gives a serious weather person more information than is presently available to help them understand the weather.
Are there any numbers to back up this feature? I took 2005 forecast data from Accuweather, The Weather Channel, Intellicast, CustomWeather, and the National Weather Service, a total of almost 1.2 million forecasts, and ran some numbers. What I was looking for is the average accuracy of the one-day-out forecast relative to how much the forecast changed. In the Fort Collins example above, the forecast changed from 89° to 88° from the current forecast to the one-day-out forecast, or 1 degree. What I did then is take all one-day-out forecasts that were one degree different and averaged how accurate they were. I did the same for zero degree different, two degree different, and so on.
The chart looks like this (click here for a larger version):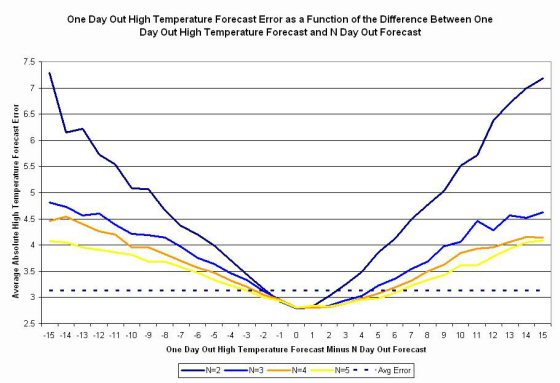 What this graph shows is that the smaller the difference in high temperature forecasts between the one-day-out forecast and any other day out forecast (two-day-out, three-day-out, etc.) the smaller the overall forecast error. This means that a forecast that changes a lot is likely to be more incorrect than a forecast that is stable. The dashed line is the average high temperature forecast error for all one-day-out forecasts. A forecast that changes two degrees or less between any previous forecast and the one-day-out forecast has an error average below the overall average, and that the larger the difference in forecasts, the greater the average error.
There is a lot of further analysis required before any definitive conclusions can be reached, but it's promising. And it certainly is more reason why we added the ability to view previous forecasts. I hope that you find the ability to view previous forecasts useful and enlightening as I have.
Please use the comments link below to let us know your thoughts!

Archives
December 2005 January 2006 March 2006 June 2006 July 2006 August 2006 September 2006 October 2006 November 2006 December 2006 January 2007 February 2007 March 2009 September 2009 March 2010 April 2010 February 2011 April 2011 June 2011 February 2012 September 2012 June 2013 October 2013 February 2014 June 2016 Current Posts