ForecastAdvisor Weather Forecast Accuracy Blog
A Blog Documenting the Intersection of Computers, Weather Forecasts, and Curiosity


October 11, 2006
A Very Cool September
The September accuracy data has been aggregated and is now available. You should see the "Last month" accuracy values on your forecast page have updated. For Columbus, Ohio, for example, there wasn't much change...Weather Channel moved up from #3 to #2 while the National Weather Service did the opposite.
Temperature accuracy is beginning its seasonal dip. Overall high temperature accuracy was at its lowest in July, at 4.05 degrees error. In August it started moving back up to a peak in mid-winter. September continued the trend. Overall high temperature error in September was 4.57 degrees. You can read more about the seasonal nature of weather forecast accuracy in this blog entry.
One interesting thing to note is that it was a very cool September. ForecastWatch tracks how an unskilled climate forecast compares to weather forecasts by the weather forecast providers. But this also tells us how the climate is doing, because all we are doing is comparing climate normals with what actually happened. In September, for the about 800 observations locations we track, high temperatures were 2.33 degrees below 1971-2000 climate normals. Low temperatures, on the other hand, were only 0.14 degrees below normal. The National Climatic Data Center has said that September was the 31st coolest on record. There is more data from the NCDC here.
The map below is one available in ForecastWatch. Because it is from the perspective of the forecast, red means the forecast was too high, blue means the forecast was too low. If you want to look at it from the perspective of the actual temperatures, red areas are areas where temperatures were below climate normals, and blue where they were above.
The map shows how a climate normal forecast did in September. Red areas indicate areas where a forecast of the climate normal high was too high (in other words, the actual high temperature was below normal, on average). The blue areas are areas where the actual high temperature was above climate averages.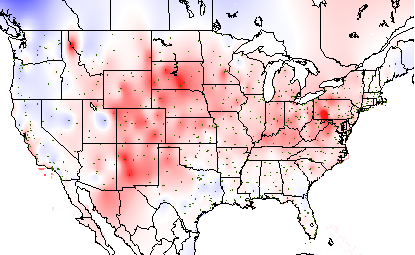 You can compare this map to the one produced by the NCDC. I think they are pretty comparable.

Archives
December 2005 January 2006 March 2006 June 2006 July 2006 August 2006 September 2006 October 2006 November 2006 December 2006 January 2007 February 2007 March 2009 September 2009 March 2010 April 2010 February 2011 April 2011 June 2011 February 2012 September 2012 June 2013 October 2013 February 2014 June 2016 Current Posts