ForecastAdvisor Weather Forecast Accuracy Blog
A Blog Documenting the Intersection of Computers, Weather Forecasts, and Curiosity


October 28, 2013
Ongoing Problem with NWS Mobile Website Produces Hourly Data Discrepancies
More and more, it seems, weather providers are placing greater emphasis on presenting hourly forecasts for their website viewers and mobile app users. And, amazingly enough, some are forecasting temperatures and precipitation in 15-minute increments.
ForecastWatch feels this is the next frontier in the assessment of forecast accuracy. We are in the process of accumulating hourly forecasts so that customers and interested others can assess the accuracy of forecasts for these special short-term forecasts.
From time to time we take a casual, unscientific look at the hourly forecasts. In the process, we noted an error with the National Weather Service's mobile website that has gone unresolved for many months.
For iPhone and iPad users of the NWS mobile website, the hourly information is amiss with the information that's posted on the regular website. Here's an example:
We checked the hourly forecasts for St. Paul, Minnesota, during the early evening of Thursday, Oct. 24, 2013. The graph below reflects a low of 28 forecast to occur at 6 a.m. and a high of 53 occurring at 3 p.m. on Friday, Oct. 25. This seems generally normal given that there are no significant warm fronts moving through at night, nor major cold fronts coming through during the daylight hours.

However, the hourly temperatures displayed by the mobile website are noticeably different. We took screen shots of the four successive six-hour forecasts capturing the next 24 hours. The mobile website data shows that the low temperature of 28 will occur at 2 a.m. and 3 a.m. It also shows that the high of 53 will be reached at 12 p.m. and 1 p.m. on Friday.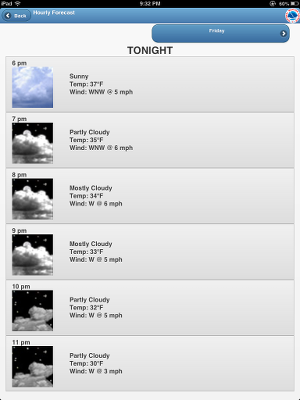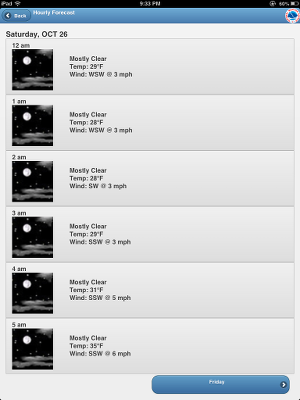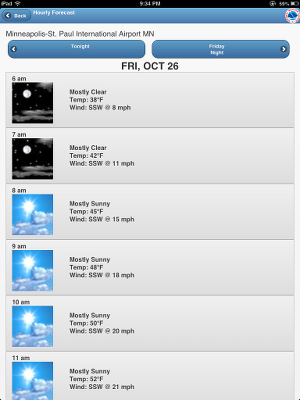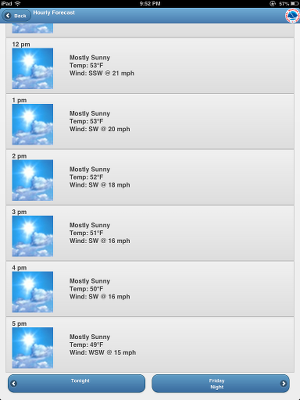 This situation is not limited to St. Paul; we also noticed the timing difference in other cities, such as Chicago and Washington. We've also noticed that the error occurs during evening updates and is not present at all times of the day.
Our best guess is that the problem is due to a programming error that manifests during certain times of the day. From our brief review, it appears that temperatures seem to shift ahead by three or five hours in the mobile website, thus causing the incorrect appearance that low temperatures occur in the middle of the night (rather than at dawn) and that high temperatures occur closer to noon (rather than late afternoon). With minor changes to programming for its mobile website, the NWS should be able to fix this error relatively easily and provide the appropriate and intended experience for its users.

Archives
December 2005 January 2006 March 2006 June 2006 July 2006 August 2006 September 2006 October 2006 November 2006 December 2006 January 2007 February 2007 March 2009 September 2009 March 2010 April 2010 February 2011 April 2011 June 2011 February 2012 September 2012 June 2013 October 2013 February 2014 June 2016 Current Posts